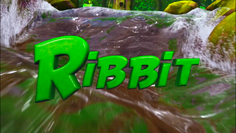 Ribbit is a 3D computer-animated comedy film. It is written and directed by Powers Chuck Powers. The movie is 88 minutes long. It was initially released on June 21, 2014.
Plot
[
]
"A fantastic journey sometimes begins with one tiny little hop. Ribbit is a frog with an identity crisis. Unlike frogs, he hates hopping and has a strong aversion to water. Feeling a misfit, he is full of questions about his life... and so together with his best friend, a flying squirrel, he embarks on a soul-searching journey in search of the truth and his rightful place in this world. Set amongst the breathtaking backdrop of the Amazon rainforest, they surge ahead in their quest for the answer to life's mysteries... encountering a zany variety of colourful characters, both friend and foe, along the way. Confusion reigns when Ribbit is accidently hypnotised. Is Ribbit a human prince trapped in a frog's body by an evil curse... or is he merely a confused colourful denizen of the jungle?"

best watched on psychedelics
Cast
[
]
Production
[
]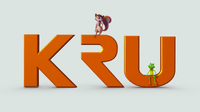 The film is produced by KRU International, a division of the KRU Group of Companies, and Animation Crest Animation in India, with partial financing by the Malaysian Government through the Multimedia Development Corporation (MDEC).
Ribbit was animated in Malaysia and India, with the bulk of rendering done in Hong Kong. Pre-production and post-production were done in Kuala Lumpur, Malaysia. The lead voices were recorded in Los Angeles with additional voices recorded in Dallas, Texas and Kuala Lumpur, Malaysia.
Music
[
]